Stories That Uplift Us
Many of us have been tethered to social media recently for updates and information. It's important, but can be very stressful. In hopes to provide some levity to your news feed, we'll be sharing stories that uplift us. They'll be Companions in Crisis recipients, Pen Pals graduates, all star volunteers, wonderful veterinarians, and more! In these stressful times, may we celebrate the people (and pets) who bring us joy!
Ella & the Kelley Family
We love updates from our Pen Pals adopters! Ella (formerly known as Cinderella) was adopted by her loving family back in August of 2017. As you can see, she is thriving in her forever home. 💚💙 Thank you for spoiling this sweet lady!
"She is the absolute perfect dog for our family. She has come so far. She was terrified of everything when we adopted her. She now lives for walks and cuddles. She loves to be warm. She has a heated area in every room in our house. She is spoiled rotten!"
Mary and Missy & Kevin and Noelle
Mary and Kevin are unique volunteers because they have both gone through the Companions in Crisis program with two dogs, Missy and Noelle.
Mary started volunteering with FETCH in 2011 after attending Pets on Parade. In 2013, her senior golden retriever, whom she had recently adopted, was diagnosed with cancer. "I then understood the true meaning of what FETCH provided to pet owners," says Mary. "FETCH helped give me the best gift of all, the gift of time with my Missy. She was a beautiful soul, who was abandoned by her family, and I was very lucky to share the last year of her life."
Kevin was introduced to FETCH through Mary and saw Missy's battle with cancer. Kevin's dog Noelle, a black lab, was diagnosed with cancer in 2018. She completed chemotherapy but was then diagnosed with a different cancer four months later. "Through the generosity of FETCH, I got an additional year wih my sweet, stubborn, funny old lady," says Kevin. "I enjoy volunteering at events and helping spread the word of this great organization. In addition to the financial contribution, we really appreciate the friendship, support and caring of the staff during and after Noelle's cancer fight."
Mary and Kevin are active volunteers with FETCH and have three gorgeous dogs, Moose, Charlie and Delilah. We are so thankful for them!
Friends of Southside SPCA
Today's story that uplifts us: Friends of Southside SPCA, one of our shelter partners that is helping keep the Pen Pals program safely operating during this time of uncertainty.
As you all might imagine, the prisons are taking extra measures to ensure that their population stays safe during COVID-19. While the Pen Pals team is no longer able to enter the facilities, we were able to pull two dogs out of the prison to bring them to their adopters, and in turn bring in two new (freshly bathed and swapped out on sanitary leashes) dogs from the shelter. We are lucky to have a team of handlers who has enough experience to continue the dogs' training even when our trainers cannot come into the facility. Chloe (tri-color) and Annie (tan and white) are now with their handlers and starting their journey as Pen Pals pups!
We are being flooded with adoption requests for dogs, so we thank everyone for their support and patience as we take it day by day!
Check out videos of Chloe and Annie on our Instagram post: bit.ly/3bf3Uy8
Layla Viands, a 2020 Companions in Crisis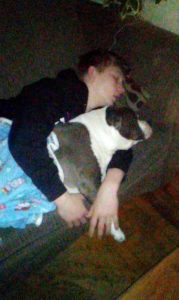 3 months ago, Layla Viands was diagnosed with lymphoma. Her family applied to our Companions in Crisis program and Layla became one of our first 2020 CIC recipients. She has been responding incredibly well and is officially in REMISSION! After Friday, she will have just 4 treatments left. An update from her family:
"Our family wants to thank FETCH a Cure and their staff because we get some extra time with our sweet girl. Without them, she wouldn't be here today. You'll never know just how grateful we are!"
Renai and Javier
Some lovely words from Renai and Javi, a Pen Pals graduate who was diagnosed with cancer:
"Today, in the wake of all the uncertainty and chaos, I'm choosing to be grateful for the extra time. Extra time for snuggles in bed and coffee on the couch with Javier. I'm choosing to be grateful for the ability to practice yoga at home where Javi sneaks in some kisses with each downward facing dog. For me, Javi is always a reminder to me of the light that comes after each storm. The start of his story wasn't so pretty- but he was saved by FETCH a Cure and continues to be given the best care possible each day. So over the next few weeks when I feel unsure, I'll look to Javi as a reminder of the good that is ahead. Until then, I will continue to be grateful for the extra time with an old man that smothers me in snuggles and kisses each day."