Sometimes CIC Means Cats in Crisis
While more of our 2020 CIC recipients are dogs, FETCH a Cure also makes grants for cats in crisis. Meet these three furry felines: Ginter, Sabbath, and Mr. Biscuits.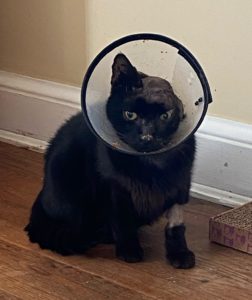 Little black cat Ginter came into his dad's life as a feral neighborhood visitor. When he developed a mass on his ear, a vet visit confirmed that a cancerous tumor was growing in his ear canal. Having lost his wife several years ago to cancer, the senior owner was determined to have a part in saving Ginter, one of his two beloved animal companions. Even though Ginter's surgery was significant, he can now enjoy his caretaker's loving care for a while longer.
Sabbath came to her pet parent from a shelter in New York, through a previous owner who brought her to Virginia. "I basically got handed the perfect cat (free to a good home off Craigslist)," says Sabbath's owner. "Beyond string eating, she has no bad habits, and prefers to be carried around like a baby." After Sabbath became lethargic, a check-up revealed enlarged lymph nodes, and Sabbath was diagnosed with T-cell lymphoma. Thanks to a CIC grant, Sabbath is being treated at The Oncology Service Richmond. We hope she is doing a lot of lap cuddling between her chemo treatments.
Mr. Biscuits is a Richmond SPCA cat adopted by a volunteer. "He was the only cat that didn't hide under the bench during human socialization," says his owner. "Instead, all he wanted to do was sit in my lap, purr, and lick my face. He came home with me two days later and has been glued to my side ever since."
This summer she noticed a small lump on Mr. Biscuits' right shoulder that didn't seem to bother him. After a fine-needle aspiration generated inconclusive results, she took Mr. Biscuits to the Blue Pearl/Dogwood Animal Hospital Surgical Center, where they excised his tumor on his first visit. Mr. Biscuits "took it like a champ," and spent the next two weeks recovering in the bedroom. Pathology indicated that he had a feline injection site sarcoma (FISS). Thanks to a CIC grant, he received radiation at The Oncology Service Richmond.
FETCH a Cure is always as happy to assist feline companions as canines. Learn more about Companions in Crisis here.